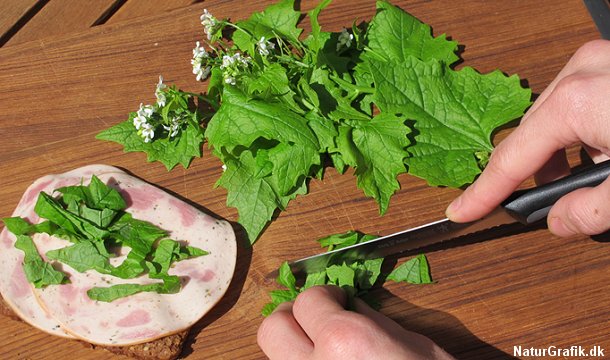 Fra ukrudt til gourmetplante

af naturvejleder Sabine Jensen.


Løgkarse er gået fra at være ugleset og kun blive betragtet som irriterende ukrudt til nu at have status som gourmetplante.
Indsamling?
Almindelig Løgkarse (Alliaria petiolata)  er hjemmehørende i Danmark, hvor den egentlig er knyttet til skovbunden. Men den trives også fint i hegn og krat, ja sågar på mure, i vejkanter og i haver. Løgkarse er af korsblomstfamilien og dermed beslægtet med blandt andet diverse kåltyper, raps, rucola, radise, sennep, karse og peberrod.
Bladene er hjerteformede med store takker og hver blomst har 4 hvide kronblade. De sidder to og to over for hinanden, så de danner et lille kors, men den kendes især på bladenes kraftige lugt af løg.
Som med de fleste urter smager løgkarse bedst, når planten er ung og frisk – og bladene kan høstes allerede fra april.
Løgkarse plukkes forsigtigt eller høstes med en saks, så planten kan vokse videre.
Tilberedning?
Løgkarse er ideel som krydderurt og bruges som alternativ til løg, purløg eller karse – både blomst og blade er spiselige.
Hele planten kan blendes til pesto, blandes i frikadellefarsen, i kryddersmør og så er blomsterne smukke som dekoration på rugbrødsmadder og i salater.