Latterfrø (Rana ridibunda)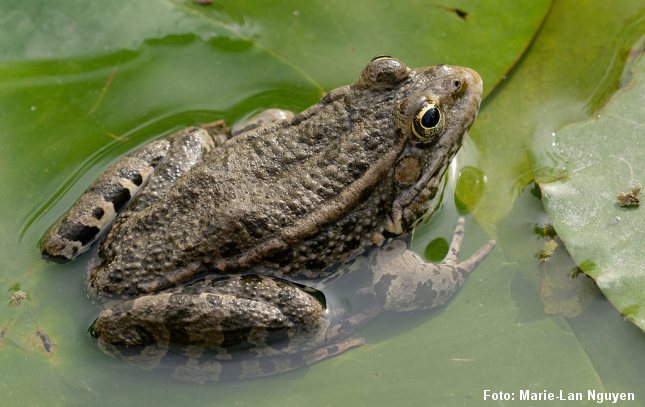 Udseende.

Latterfrøen (Rana ridibunda) tilhører gruppen af de grønne frøer. For det meste er den mere brun end grøn, men den kan variere i farvenuancer mellem grøn, brun og næsten gråsort.
Latterfrøen bliver ofte forvekslet med den grønne frø, men latterfrøen er for det meste mere brun og mere vortet.
En sikker identifikation og adskillelse mellem latterfrø og grøn frø kan ske, hvis man både hører frøens kvækken og desuden har mulighed for at undersøge fodrodsknuden, der er lille og lav hos latterfrøen. Ellers skal man tager blod- og DNA prøver.
Frøen kan i nogle tilfælde blive op til 12-13 cm, men normalt bliver de kun 7-8 cm.
Hunnerne er størst og de er de største frøer ikke bare i Danmark, men i hele Europa.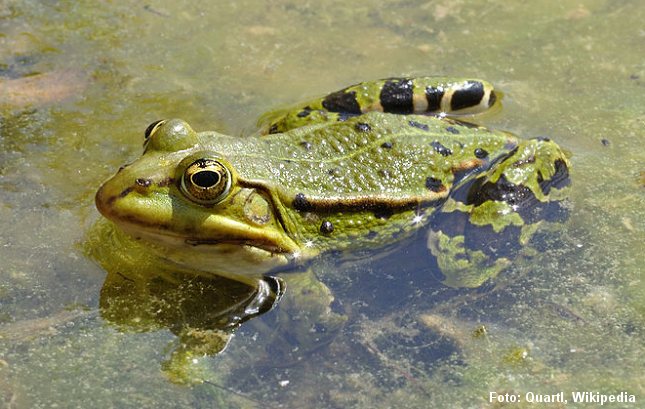 Hannerne har oppustelige kvækposer og er tit mere olivengrønne end hunnerne. Det er dog ikke en sikker kønsbestemmelse, da både hanner og hunner kan variere meget i farve. Bugen er lys med mørke aftegninger. Øjnene sidder tæt ovenpå hovedet.
Levevis.

I Danmark findes latterfrøen kun på Bornholm. Derudover findes få udsatte bestande omkring parkvandhullerne i Aarhus og København.
På Bornholm er der to grupper, nemlig en på øens østside og en på den vestlige halvdel. På den østlige halvdel er der stort set kun fundet hunner, imens der på den vestlige del findes en bestand af både hunner og hanner.
Når der kan overleve en bestand kun af hunner på den østlige del skyldes det, at hunnerne parrer sig med de grønne frøer som er i området. Den grønne frø er oprindeligt en krydsning mellem en latterfrø og en kortbenet grøn frø (som ikke findes i Danmark).
Parringskaldet hos den grønne frø minder om latterfrøens og ydermere producerer hanner af grøn frø to typer sædceller. Parring med en latterfrø hun kan således give to typer afkom, enten hanner af grøn frø eller hunner af latterfrø. Resultatet afhænger altså af det dominerende arveanlæg hos frøerne. Ligesom mennesket har X og Y kromosomer så taler man om L- og R-arveanlæg i frøernes verden.
Latterfrøen ynder at holde til i større vandhuller og søer.
Hør latterfrøens stemme: 
Navnet latterfrø er meget sigende, da frøens kvækken kan lyde som en grov stødvis latter; ha ha ha ha. Det kan forveksles med den grønne frøs kvækken, men dennes er hurtigere og ikke så tydeligt opdelt i stød som hos latterfrøen. Under optimale forhold kan latteren høres ved midnat omkring 1,5 km væk.
Sårbar overfor forurening.
Latterfrøen er meget sårbar over for forurening i vandet af eksempelvis gødningsstoffer og slam. De overvintrer i vandhullerne og her er det nødvendigt med rent og iltrigt vand, da de ikke kan overleve i længere tid i vand uden ilt.
Føde.

Latterfrøen er næsten altspisende. Menuen består af alt fra alger, insekter, fisk og myrer til firben, mus og fugle. Ja selv andre frøer, inkl. andre latterfrøer skal ikke føle sig for sikre.
Latterfrøen er fredet og må ikke samles ind eller slås ihjel.
MR/
Kilde: Nordens padder og krybdyr, Kåre Fog m.fl.; Gads Forlag, Naturstyrelsen. Lydoptagelse: Wikipedia.