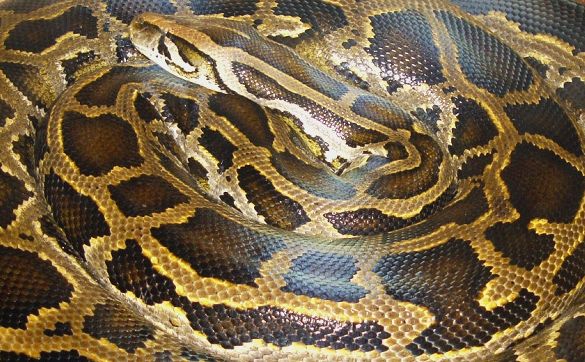 Ny viden: Slanger kan finde hjem selvom de flyttes mange kilometre.
Burmesisk tigerpython (Python bivittatus), der hører til blandt de store arter af kvælerslanger, har en særlig sans, der svarer til en slags indbygget kort og kompas. Det har amerikanske forskere opdaget. Slangerne evner at finde hjem over store afstande ved at bruge disse særlige evner.
Kvælerslanger fanget og flyttet i Floridas Everglades – hvor de regnes for en uønsket, invasiv art, viste sig at kunne finde tilbage til deres oprindelige startpunkt i det område de blev flyttet fra – en strækning på 36 km. Den opdagelse har overrasket forskerne.
Det er det første tegn på, at slanger kan have et lignende magnetisk kompas som det også kendes fra havskildpadder.
"Vi antog at slangerne ville adoptere en ny hjemmebane i det område de blev flyttet til. Vi forventede ikke at de fandt vej hjem til de steder, hvor de blev indfanget", siger Shannon Pittman fra Davidson College, North Carolina. Hun er hovedforfatter bag de resultater, der er offentliggjort i The Royal Society journal Biology Letters.
"Andre slanger deler sandsynligvis denne evne med disse kvælerslanger", tilføjer Shannon Pittman til BBC News. "Men vores viden er begrænset af den lille forskning på området".
Kilde: BBC News