Kæmpefluen harald. Ja, det er såmænd navnet på den største snylteflue vi har herhjemme. Det startede som et kælenavn, men navnet blev hængende ved den store behårede flue som ved første øjekast kan forveksles med en humlebi.
Fortællingen om navnet.
Kæmpefluen harald (Tachina grossa) er en af de få insekter som har en historie tilknyttet sit navn. Vi skal helt tilbage til 1950'erne, hvor zoologen Ellinor Bro Larsen fandt på navnet til den store flue. Den store, sorte flue med det gule hoved, mindede hende nemlig om den første direktør for Naturhistorisk Museum i Aarhus, professor Harald Thamdrup. Ifølge zoologen var professoren ligesom fluen både stor, stridhåret og ikke til at komme uden om, men ganske harmløs. Navnet fængede og er i dag det officielle, danske navn. Navnet vækker ikke blot opsigt, men også nysgerrighed for naturen og insekterne som ellers ikke altid er lige populære hos alle.
Som andre artsbetegnelser skrives kæmpefluen harald med småt til trods for at det er et "rigtigt" navn.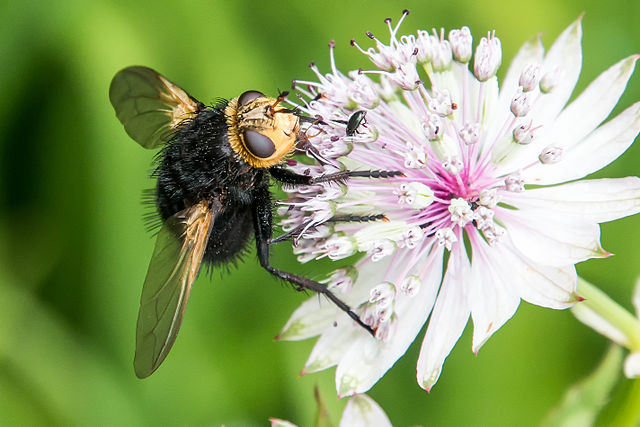 Fra brutal til harmløs.
Kæmpefluen harald er en fredsommelig flue som ikke irriterer os mennesker som nogle af dens artsfælder ellers kan have for vane. Harald er mere interesseret i blomsterne, hvor den ernærer sig med nektar og pollen. Men snyltefluen har ikke altid været harmløs. Harald har en barsk fortid som fluelarve. Som snylteflue starter den livet som parasit. Hunnen lægger sine æg i levende sommerfuglelarver, hvor favoritterne er de behårede larver af brombærspinder og egespinder. Her lever harald på barbarisk vis, hvor den ernærer sig indtil værten dør og kæmpefluen forpupper sig. At det er de store sommerfuglelarver som benyttes som værter skyldes, at der skal være føde nok til den store fluelarve samt plads til alle stadier i dens udvikling.
Fakta om kæmpefluen harald:
Med sine næsten 2 cm er det den største snylteflue i Europa.
Den har sort for- og bagkrop, men hovedet er lys gul.
Størrelsen, det gule hoved og den børste krop gør, at fluen ved første øjekast kan forveksles med en humlebi, dog har den kun to vinger modsat humlebierne som har fire.
Kæmpefluen harald flyver i juli og august.
De foretrukne levesteder er heder og åbne overdrev.
I Danmark er der kun en generation om året af kæmpefluen harald.
MR/
Kilder: danarige.dk, wikipedia, danske-natur.dk, vestrehus.dk