Den 14.500 kvadratkilometer store nationalpark svarer til et areal, der er dobbelt så stort som Sjælland. Nationalparken etableres for at bevare amurleoparden som er verdens mest sjældne kattedyr samt amurtigeren – også kendt som den sibiriske tiger.
I sidste øjeblik.
På trods af, at både amurleoparden og den sibiriske tiger er i fremgang, er der stadigvæk kun få individer tilbage i den vilde natur. I 2015 var der omkring 65-69 amurleoparder tilbage i Rusland og Kina, hvor tallet var helt nede på 30 individer i 2007. Til trods for fremgangen er der ingen garanti for at den klarer sig, da det både afhænger af hvor godt den beskyttes samt hvorvidt den genetiske variation er stor nok til, at den kan reproducere sig selv.
Der findes under 400 vilde sibiriske tiger tilbage i naturen. Begge katte kræver plads og det er nu det som den kinesiske regering vil forsøge at give dem.
Tusindvis af arter bliver beskyttet.
Hos Bo Normander som er programleder for skov og biodiversitet i WWF Verdensnaturfonden møder man begejstring for planerne om den nye nationalpark. For det første vil det forhåbentlig have en positiv indflydelse på de to truede kattedyr arter, men tusindvis af andre arter vil også nye godt af, at store områder fredes. Bo Normander afviser ikke, at der er tale om et prestigeprojekt fra kinesisk side, men dyrene er stadigvæk de store vindere.
Tidligere blev store kinesiske skovområder ryddet på bekostning af den økonomiske vækst i landet, men ifølge Bo Normander er der de seneste år sket et skift i Kina. Internationalt pres har blandt andet været medvirkende til en øget forståelse for naturbeskyttelse i Kina, hvilket også ses på landets indsats for den tidligere truede panda.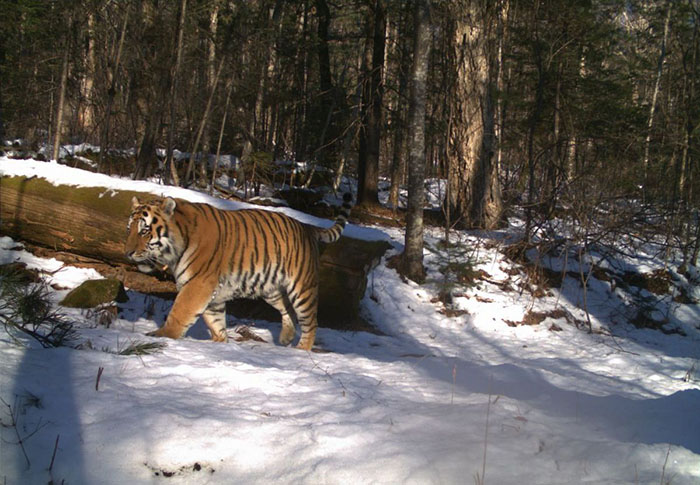 Rusland kom først.
Nationalparken placeres i det nordøstlige del af Kina tæt på den russiske grænse. I Rusland har man i mange år arbejdet på at redde den sibiriske tiger og her har den også været i vækst i flere år. I 2012 kom turen til amurleoparden. Her etablerede Rusland en 6.500 kvadratkilometer stor nationalpark for leoparden kaldet "Land of the Leopard National Park". Kina's nye nationalpark kommer til at grænse op til den russiske nationalpark så kattedyrene får beskyttelse på begge sider af grænsen.
Det er planen at nationalparken skal etableres inden 2020.
MR/
Kilde: dr.dk