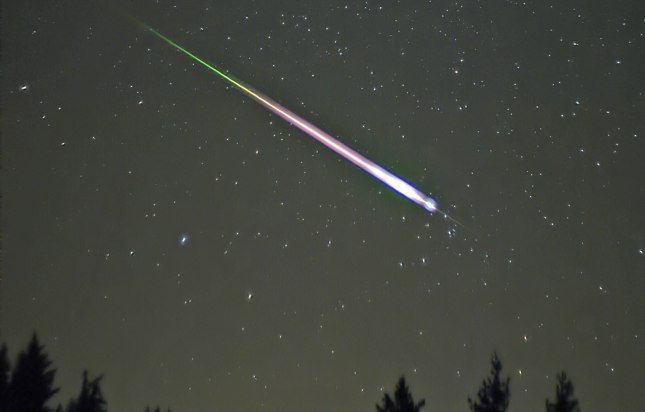 Ildkugle fra universet har antageligt ramt Mols.
Når en meteoride fra rummet rammer Jordens atmosfære bremses den ned i atmosfæren og kan frembringe et kraftigt lysende stjerneskud også kaldet en ildkugle. Oftest vil mindre meteorider brænde op inden de rammer jorden, men det sker at nogle af disse ildkugler "overlever" nedbremsningen gennem atmosfæren og falder til jorden i form af meteoritter.
Det skete efter alt at dømme forleden søndag nat, hvor mange danskere netop var ude i nattemørket med øjnene rettet mod måneformørkelsen.
To ildkugler over Nordjylland.
To ildkugler fløj henover himmelen, hvor de tydeligt kunne ses over hele Nordjylland. Den ene ildkugle blev observeret og fotograferet kl. 03.36 – og den anden ildkugle blev set 2 timer senere.
Med meteorerne følger også et stort brag. Det oplyser Jørgen Christensen fra Nordjysk amatør astronomisk forening, NAFA, til Nordjyske Stiftstidende.
"Den ene ildkugle var 100 km oppe, så der rammer lyden jorden tre minutter senere. Sådan et lydmursbrag kan være så kraftig, at ruderne står og dirrer", siger Jørgen Christensen. NAFA hører meget gerne fra folk, der har hørt eller observeret noget.
"Har man hørt et brag, kan det være fra en meteor", siger Jørgen Christensen, der vurderer at den ene af meteoritterne formentlig er landet på Mols.
Meteoritter er danekræ og skal derfor afleveres til staten. Finderen vil få udbetalt en findeløn hvis størrelse fastlægges af Statens Museumsnævn.
/NL
Se en kraftig ildkugle over Chelyabinsk Oblast i Rusland 2013:

Kilde: Nordjyske.dk, Wikipedia.