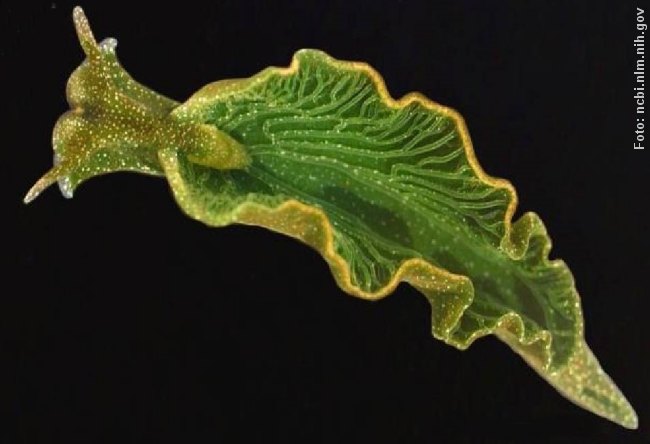 Hvordan kan den smaragdgrønne havsnegl (Elysia chlorotica) formå at klare sig i måneder ved at leve og vokse af sollys ligesom en plante? Det svar er netop præciseret i en nylig undersøgelse offentliggjort i The Biological Bulletin.
Forskerne bag svaret præsenterer for første gang det direkte bevis for, at den grønne havsnegls kromosomer har nogle gener, der stammer fra de alger som sneglen spiser.
[quote_center]"Gener fra en alge bør på ingen måde kunne arbejde i en celle fra et dyr"…og alligevel er det det der sker her"[/quote_center]
Disse gener "arvet" fra algerne, hjælper sneglen til at opretholde fotosyntetiske processer inde i sneglen. Genet skaber et enzym, der er nødvendigt for funktionen af de fotosyntetiske "maskiner", kaldet chloroplaster, som typisk findes i planter og alger. Processer der ellers tilhører planteriget. Disse fotosyntetiske processer giver sneglen den mad, den har brug for.
[quote_box_left]Fotosyntese er betegnelsen for levende organismers dannelse af organisk stof ved anvendelse af energi fra lys – hovedsageligt lys fra Solen.[/quote_box_left]
Vigtig viden i fremtidig genbehandling hos mennesker.
Det er det eneste kendte effektfulde eksempel på gen-overførsel fra en flercellede art til en anden. Denne funktionelle genoverførsel kan være et vigtigt fremtidigt mål for genterapi hos mennesker for at korrigere genetisk baserede sygdomme.
"Er en havsnegl en god, biologisk model for fremtidig genterapi hos mennesker? Sandsynligvis ikke! Men at kende mekanismen bag den naturligt forekommende genoverførsel kan være meget lærerigt for fremtidige medicinske applikationer" siger en af undersøgelsens medforfattere Sidney K. Pierce, emeritus professor ved University of South Florida og University of Maryland.
"Gener fra en alge bør på ingen måde kunne arbejde i en celle fra et dyr" siger Pierce. "Og alligevel er det det der sker her. Generne tillader dyret at udnytte solen som ernæringskilde. Sker der noget med sneglens primære fødekilde, kan den klare sig på solenergi og undgå at sulte ihjel indtil sneglen igen får mulighed for at spise alger."
Kilder: Marine Biological Laboratory, sciencedaily.com, Wikimedia.