I tusinder af år har man brugt drikkekopper og -krus skåret i træ. Nu har naturmaterialet fået en vis renæssance hos friluftsfolket. Det er der flere, gode grunde til.
Af Marianne Riis.
Jeg har min klassiske folde-kop i grøn plastik, der har været med på talrige ture. Den vejer intet og den fylder intet. Jeg har mit rustikke, robuste emaljekop fra Gentlemen's Hardwear, der er god at drikke af, men hvor koppen bliver brændende varm som kaffen selv – og så har jeg min trækop, skåret af et stykke birketræ. Jeg ynder at holde om den med begge hænder mens jeg nyder kaffen ved bålet. Den er yderst behagelig at drikke af. Koppen bliver ikke skoldende varm – og så er den både smuk og robust.
Der er åbenbart andre end mig, der har samme tanker. Trækoppen er i stigende grad blevet populær hos friluftsfolket. Der er kommet flere producenter på markedet og konkurrencen er med til at holde prisen i et attraktivt leje. De er i hvert fald blevet billigere siden jeg købte min.
Traditionelle modeller fra Norge, Sverige og Finland
Ved en rundtur på nettet har jeg fundet tre modeller fra henholdsvis Norge, Finland og Sverige. I Skandinavien går brug af trækopper langt tilbage i tiden. I Sverige ofte under navnet "kåsa" og i Finland som "kuksa", der efter sigende har været anvendt af samerne i mere end tusinde år.
Wood mug fra norske Gstove i klassisk skandinavisk stil. Hver kop er unik med sin egen åretegning. Wood Mug'en (2 dl) er skåret ud af ét stykke træ, så den bliver ikke utæt. De to fingergreb på hanken gør, at den ligger godt i hånden. Koppen koster 99 kr. og kan fås hos Friluftslageret (annoncelink til tilbud).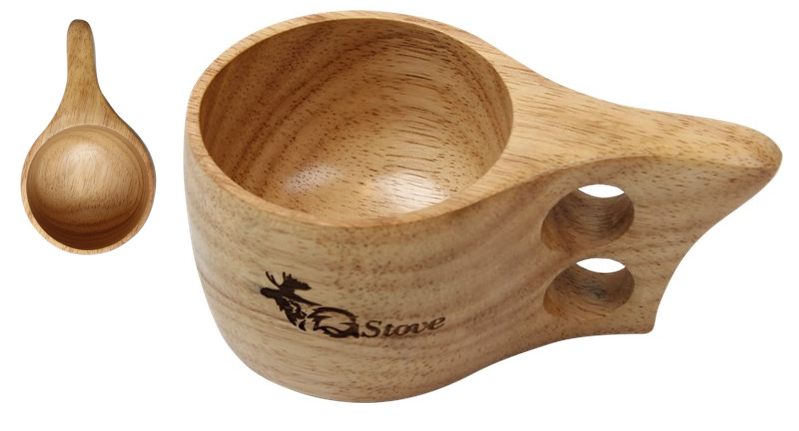 Herunder er en flot, enkel kop (2 dl) fra finske Wood Jewel – med læderstrop. Den fås til samme pris som ovenstående, kr. 99,- hos spejdernes butik 55nord.dk (annoncelink til tilbud). Dog kan man spare 10%, hvis man bliver gratis medlem af butikkens Klub Highfive. Brug mobilen og send teksten High5 til 1272. Det er gratis – og butikken sender en rabatkode til dig.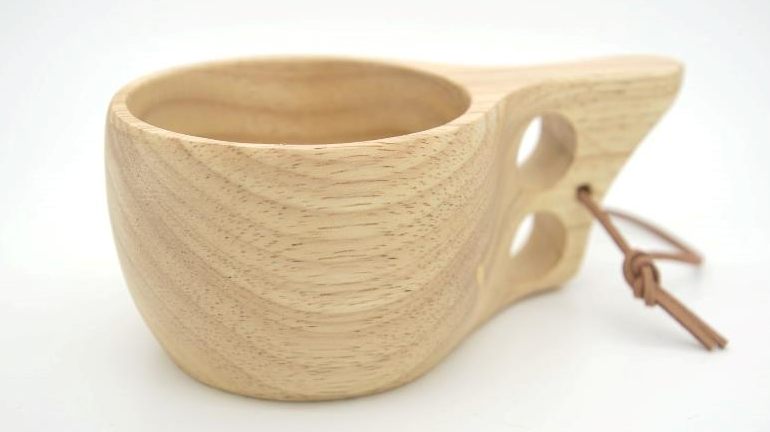 Min egen kop (herunder) er lavet af svenske Stabilo Therm – og går herhjemme også under navnet "nak og æd-koppen", fra et populært tv-program. Koppen indeholder lidt mindre end de to øvrige. Derudover består forskellen primært i håndtaget. En skandinavisk klassiker, igen i et flot og rustikt design. Den koster 119 kr. hos Pro Outdoor (annoncelink til tilbud).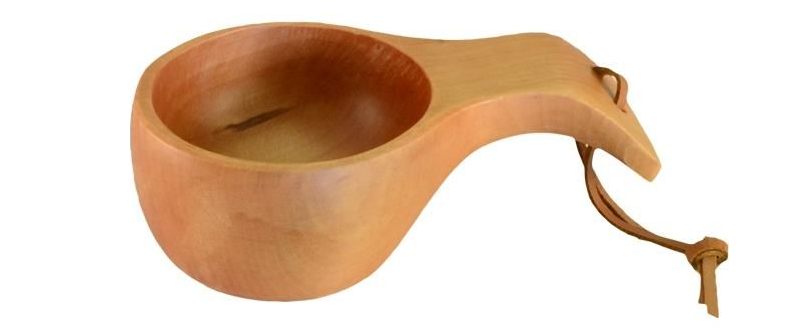 Jeg har uden problemer brugt koppen til både suppe og varm kaffe. Det går fint. Koppen vasker jeg op i hånden (man har jo alligevel ikke opvaskemaskine med på tur). Af og til gnider jeg lidt madolie ind i træet når jeg kommer hjem fra tur, hvilket får træets årer til at træde flot frem.
Mangler du en god gaveide, der kan bruges livet igennem, hvis man passer på den, så er en traditionel nordisk trækop nok værd at overveje.