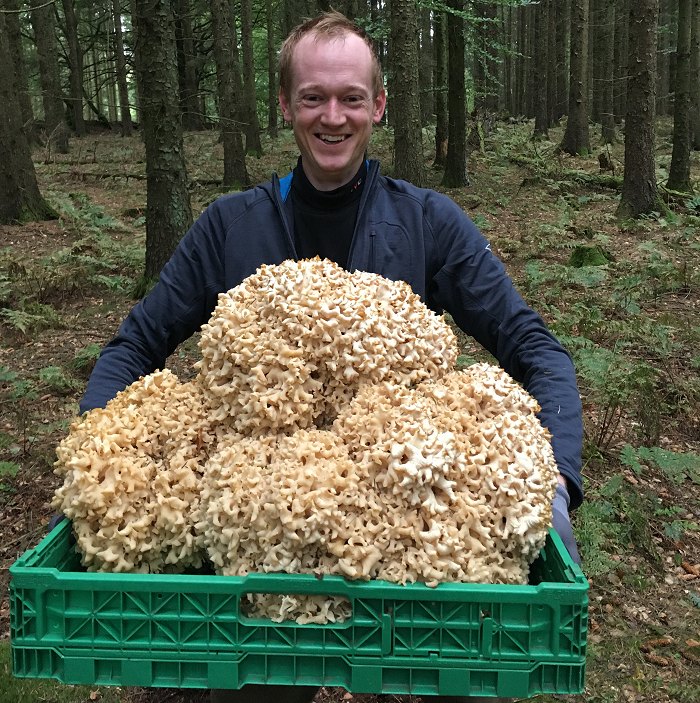 Svampeentusiaster finder gigantisk, stor blomkålssvamp. Den delikate svamp kommer efter planen mange gæster til gode på kendt restaurant i Aalborg.
Svampesamleren Mikkel Paulsen fra Vendsyssel og den kendte kok Michael Miv Pedersen er ofte på tur i skoven efter skattede spisesvampe. Stjernekokken, der tidligere har fået titlen "Danmarks bedste kok" har nu i den grad noget helt særligt at tilbyde sine gæster. De to svampeentusiaster fandt nemlig forleden en gigantisk, stor blomkålssvamp i et privat skovområde i Himmerland.
Den velsmagende og delikate svamp målte 70 x 50 x 45cm – og vejede tæt på 8,4 kg, oplyser Mikkel Paulsen til NaturGuide.dk. "Det har tilmed været tørt længe, da vi fandt svampen, hvilket har betydning for vandindholdet og svampens vægt", tilføjer han.
Årets største blomkålssvamp.
Her på redaktionen har vi ikke tidligere hørt om så store blomkålssvampe i år – og det er så vidt vides en klar nordjysk rekord. For et par år siden blev der på Bornholm rapporteret om en kæmpe på ca. 10 kg.
Annonce:
En god gave? Køb en god, billig svampekniv
Det bliver efter alt at dømme gæsterne på Michael Miv Pedersens restaurant i Aalborg – Restaurant Tabu, der får glæde af den velsmagende svamp. Restaurant Tabu blev sidste år kåret blandt de 25 bedste restauranter i Danmark, så gæsterne er i forvejen godt vant.
Mange blomkålssvampe i år – vil det forsætte for fremtiden?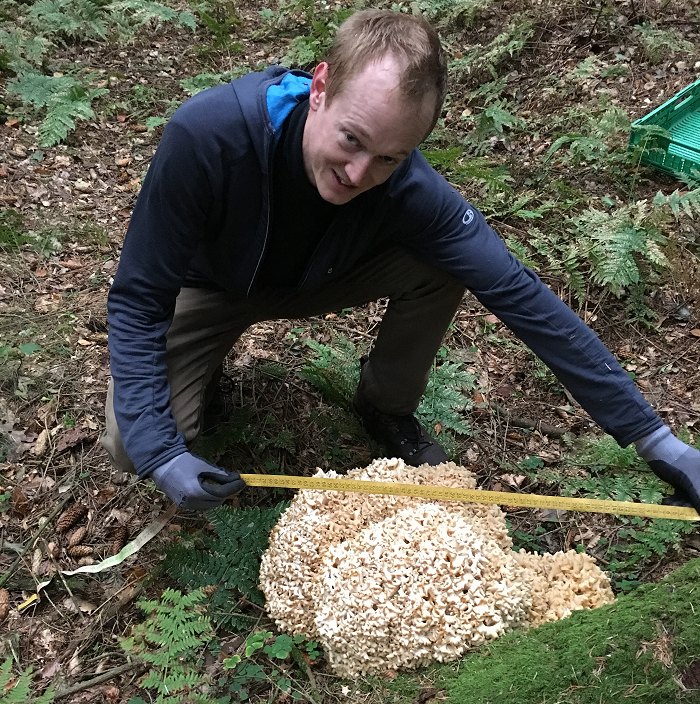 Annonce:
Få styr på spisesvampene med bogen "Svampe du kan spise" – fra Saxo.
Mikkel Paulsen fortæller at varmen har bragt usædvanligt mange blomkålsvampe i år, der normalt regnes for fåtallige – og nogle steder ligefrem sjældne. Alene på denne tur så de to svampesamlere 29 eksemplarer, fortæller den rutinerede svampesamler – og tilføjer at han lader de gamle og små stå.
"Det vigtige er ikke om man lader svampen stå, det vigtige er at man lader værtstræet stå! Derfor forsøger jeg at træffe aftale med skovejeren"
Mikkel Paulsen ser gerne, at der ligesom rekreativ udvikling af skovene, blev gjort noget for at styrke og bevare de gode svampelokaliteter – og tilføjer at udviklingen af biobrændsel har drevet rovdrift på mange af de sjældne og rigtig gode svampebiotoper. Disse udgør ofte under 1/10 af skovens areal, men findes også i de ellers kedelige nåleplantager.
Det tager generationer at få biotoperne tilbage og det skyldes svampens symbiotiske forhold med dets værtstræ. Det vigtigste er ikke at bevare frugtlegemet, men træet og dermed svampens mycelium. Derfor vil Mikkel Paulsen forsøge at træffe aftale med ejeren om at bevare træet, hvor kæmpe-blomkålsvampen blev fundet.
/MR