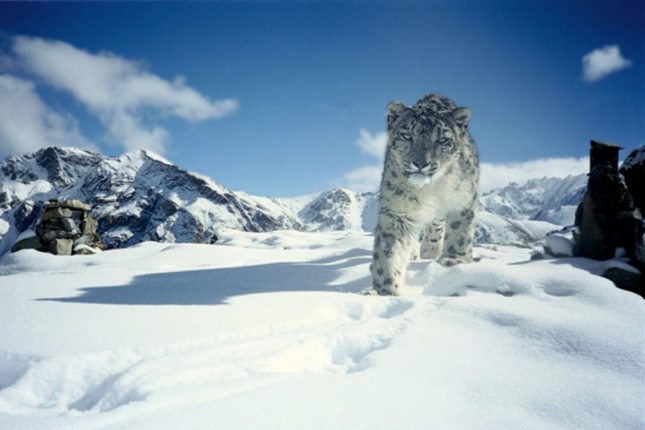 Upåvirket af livet i 6000 meters højde.
Et internationalt forskerhold, heriblandt danske forskere, har fundet ud af, at der ikke er forskel på sneleopardens evne til at optage ilt i forhold til andre kattedyr. Det er til trods for, at den sky og truede kat lever i Himalayabjergene i op til 6000 meters højde.
Alle kattedyr fra huskatten til de store katte som eksempelvis løver har svært ved at klare sig når der ikke er meget ilt. Det skyldes, at kattes hæmoglobin har en meget lav iltbindingsevne. Hæmoglobin er et protein som transporterer ilten fra lungerne og ud i kroppen via blodet. Proteinets iltbindingsevne er ekstra vigtig i højderne som Himalayabjergene, hvor der er mindre ilt. Det gør det endnu mere mystisk, at sneleoparden nærmest virker upåvirket af den tynde atmosfære.
Gåden endnu ikke løst.
Hvordan sneleoparden så kan overleve, og umiddelbart uden problemer med det lave iltindhold i luften, vides endnu ikke. Hidtil har man troet, det skete som hos eksempelvis lamaer og hjortemus. De har udviklet en særlig god evne til at optage ilten i den tynde luft, men den ny forskning viser, at det ikke er tilfældet med sneleoparden.
Efter at have testet blodet fra flere store kattearter viste resultatet, at iltbindingsevnen ikke var afhængig af hvilken højde dyrene lever i, men at den var lige dårlig for dem alle. Det gælder for både de store katte, men også huskatten.
Et nyt bud på hvordan sneleoparden så klarer sig i de store højder er, at den simpelthen trækker vejret kraftigere.
Forskning af hæmoglobin i dyr er ekstra interessant for forskerne, da det ikke kun giver en bedre viden om dyrere, men måske også kan vise sig nyttig i kampen mod forskellige lungesygdomme hos mennesker.
Forskningen er publiceret i The Journal of Experimental Biology.
MR/
Kilde: The Journal of Experimental Biology, dr.dk.