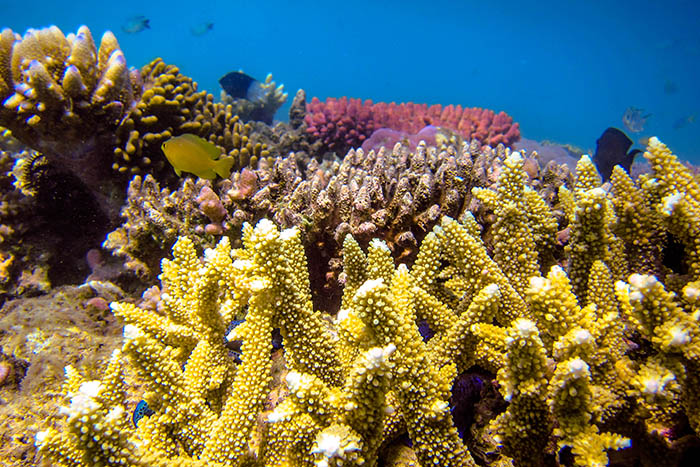 Stigende havtemperaturer og miljøforringelser har ført til koralblegning på verdens største koralrev Great Barrier Reef. Den australske regering inviterer nu forskere, industri og ledere fra erhvervslivet verden over til at komme med løsningsforslag, der kan redde revet.
Koralrev større end Italien.
Great Barrier Reef er verdens største koralrev og større end Italien. Miljøforringelser og stigende havtemperatur har blot indenfor de seneste to år ført til koralblegning af dimensioner. Forskere advarer om, at hvis der ikke bliver gjort mere for at genoprette det beskadigede rev og reducere klimaforandringerne, vil Great Barrier Reef være helt ødelagt inden for vores levetid.
Åben invitation til hele verden med ideer til en redningsplan.
"MILLIONS of dollars will be handed out to people from around the world to come up with groundbreaking ways to save the Great Barrier Reef.", skriver det australske medie Courier Mail.
Den australske regering har netop udlovet to millioner dollars, hvilket svarer til knap 10 millioner danske kroner, til den eller dem, der kan tilvejebringe banebrydende forslag til at redde korallerne på verdens største rev. Problemet er enormt, siger landets miljø- og energiminister, Josh Frydenberg. Han mener, at det kræves, at der tænkes stort men også gerne, at der findes nye løsninger til at klare udfordringen.
"Dette er en åben invitation til vores største videnskabelige hjerner, industri og forretningsledere, innovatører og iværksættere til at udvikle innovative løsninger, som vil beskytte koraller og tilskynde til genopretning af beskadigede rev," siger Frydenberg.
Han understreger dog, at eventuelle løsningsforslag skal tage hensyn til blandt andre aboriginerne og de oprindelige australske samfund som blandt andet tæller fiskere og turister.
Fakta om Great Barrier Reef:
Great Barrier Reef er verdens største koralrev og et af de økosystemer i verden med den største biodiversitet og hjemsted for millioner af maritime livsformer.

Revet er blandt de største turistattraktioner i Australien, der genererer omkring 6,4 milliarder dollars om året – svarende til godt 30 milliarder danske kroner.

I 2017 undgik den australske regering at Great Barrier Reef blev tilføjet Unescos liste over verdensarv der er "i fare". Den nedrykning undgik de kun fordi regeringen lovede at afsætte store summer til at beskytte det store rev.
MR/
Kilde: dr.dk, Courier Mail.