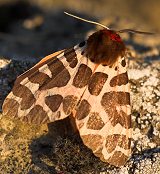 Organismers forandring.
Evolution betyder kort fortalt udvikling. Mere præcist er definationen en udvikling, der beskriver organismers forandring som følge af arvelighed, reproduktion og udvælgelse (survival of the fittest). Ser vi på dyreriget har mange arter gennemgået en udvikling, der på baggrund af nye tilpasninger har resulteret i underarter eller sågar nye arters opståen og andre arters forsvinden. Evolutionen pågår stadig.
Natsværmere har udviklet hørelse for at undgå at blive spist
Som et trin i den evige evolution har nogle natsværmere som f.eks. vores hjemlige bjørnespinder udviklet hørelse for at undgå at blive spist af flagermus. Natsværmere har eksisteret længe før flagermusene. Da de flyvende pattedyr udviklede sig og indtog nattehimlen fik natsværmerne pludselig en god grund til at udvikle ører, der kunne opfatte flagermusens jagtskrig.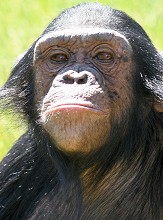 Mennesket og aberne.
Nutidens mennesker stammer ikke fra den type menneskeaber, som lever i dag, men fra en fælles stamfader, som levede i en fjern fortid. Nyere dna-forskning fastslår mere eksakt, at chimpansen og menneskets fælles forfader skilte sig ud for kun 4,1 millioner år siden. Det er væsentligt senere end hidtil antaget.
Det vides ikke helt nøjagtigt, hvordan vores fælles stamfader har set ud, men sandsynligvis har de ikke været væsentligt forskellige fra nutidens chimpanser.
Orangutangen skilte sig først fra vores fælles stamtræ – antageligt for 15 millioner år siden. Først langt senere for ca. 6 millioner år siden skilte gorillaen sig sig fra og altså sidst chimpansen for 4,1 millioner år siden. Menneskets arvemasse er for mere end 98% vedkommende identisk med chimpansens. Den afrikanske dværgchimpanse, som også kaldes bonoboaben er den art, vi ligner mest.
For ca. 4 millioner år siden opstod den næste slægtsgruppe på det nutidige menneskes stamtræ; australo-pithecinerne. Disse abemennesker har gået oprejst, men deres skelet viser, at de også har levet i træerne ligesom deres forfædre. For eksempel var deres overkrop og arme næsten som chimpansens. Skeletfund viser dog, at den oprejste gang nu var dominerende.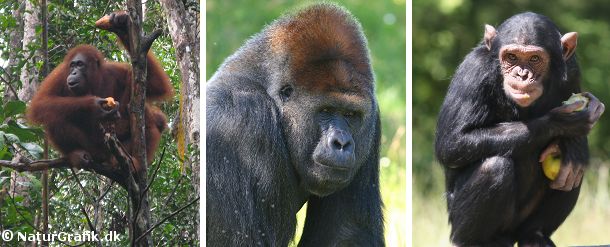 Kilder: Nationalmuseet, Naturhistorisk Museum, Center for Bioinformatik.