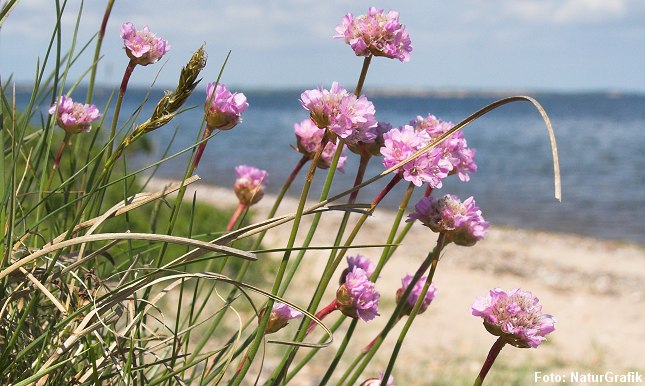 Engelskgræs har intet med England at gøre.
Engelskgræs (Armeria maritima), kongeknapper eller fåreleger. En lille smuk, men hårdfør plante med mange navne som intet har med England at gøre.
I gamle dage blev planten markedsført under betegnelsen engelsk græs af havebruget, men det menes, at navnet har ophav af tidligere dialekter, hvor engelsk har betydningen "fremmed".
Navnet kongeknapper blev også brugt tidligere i visse egne af landet, men bliver ikke brugt så meget i dag. Fåreleger er et andet gammelt dansk navn, som ikke bruges så ofte mere og betyder fårelilje. Det kommer sig af, at når fårene græsser ude på overdrevet, hvor planten gerne holder til, er fårene efter sigende meget ivrige efter at spise den.
I Norge, Sverige og Tyskland kaldes den i øvrigt for en nellike og ikke en lilje. Armeria menes at være keltisk og betyde "ved hav" og også det latinske maritima betyder "ved havet". Netop kystnære strandenge er et yndet voksested for planten.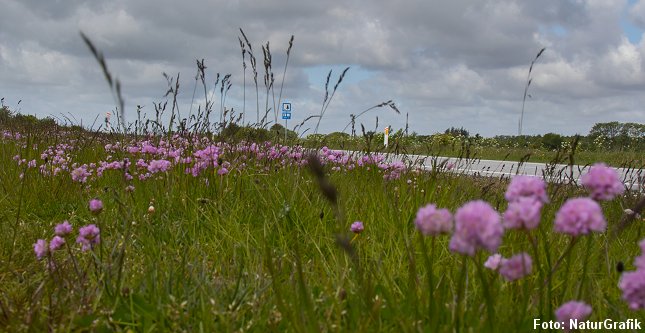 Vejrabatternes dronning – tåler salt.
Engelskgræs holder af mager sand- og grusbund som eksempelvis klitter, strandenge og overdrev. Men igennem de sidste årtier har den også bredt sig ind i landet til vejkanterne. Her giver vejsaltet som bruges om vinteren nemlig fine vækst- og konkurrenceforhold for den tørketålende plante. Hvor saltet ødelægger vækstforholdene for de fleste planter har engelskgræs og de fleste øvrige strandengsplanter tilpasset sig et liv med salt. De formår at opretholde en større saltkoncentration inde i planten end omgivelserne har. Det gør at vandet diffunderer ind i planten(osmose) og ikke ud. Hvis de ikke havde evnen til at lagre saltet ville de tørre ud i de meget saltholdige vejrabatter.
MR/
FAKTA OM ENGELSKGRÆS
De fine, lyserøde eller lyslilla blomster dufter sødt honning-agtigt.
Blomsterne holder farven længe og bruges derfor ofte til blomsterbinding.
10-30 cm høj og flerårig.
Blomster fra maj til september, dog kraftigst de første 3 måneder.
Der findes flere hundrede arter af slægten Armeria men vildtvoksende i Danmark finder man kun den der hedder Engelskgræs (Armeria maritima) samt to underarter der ikke er helt skarpt adskilt nemlig Vej-engelskgræs (Armeria maritima ssp. elongata) og Strand-engelskgræs (Armeria maritima ssp. maritima).
Engelskgræs er almindelig i hele landet med de to underarter. Vej-engelskgræs ses dog mest på indlandslokaliteter i det jyske.
Kilder: Danmarks vilde planter, danskeblomster.dk, Naturstyrelsen, Wikipedia, haveabc.dk