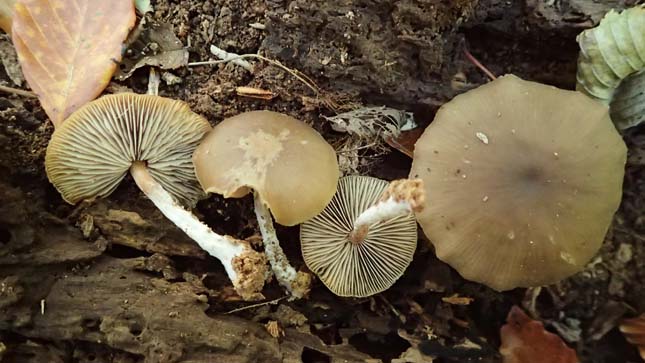 For første gang nogen sinde er svampen Entoloma pluteisimilis fundet i Danmark og endda i to forskellige skove.
Fundet i gammel skov.
De første eksemplarer blev fundet af svampeekspert, lektor Jacob Heilmann-Clausen fra Center for Makroøkologi, Evolution og Klima på Københavns Universitet, i Gribskov på Sjælland i den del af skoven som er urørt og fritaget for skovdrift. Et område som har træer helt tilbage fra 1778.
Det andet fund blev gjort af Tobias Bøllingtoft få dage senere. Han deltager i et andet projekt hos Institut for Geovidenskab og Naturforvaltning på Københavns Universitet og GEUS, hvor han undersøger betydningen af urørt skov for biodiversiteten. Tobias Bøllingtoft's fund var mere end 100 kilometer fra Gribskov, nemlig i Suserup Skov ved Sorø på Midtsjælland. Også her er der tale om skov som er fritaget for skovdrift. Området i Suserup Skov regnes for at have været skov i mere end 6000 år.
Skærmhattefamilien.
Den nyfundne svamp har endnu ikke et dansk navn, men det latinske navn Entoloma pluteisimilis betyder skærmhattelignende rødblad. Og det til trods for at paddehatten ikke ligner en skærmhat. Den er omkring fem centimeter høj og lys brun og tilhører svampeslægten rødblad, som en del af navnet hentyder til.
Det er ikke kun i Danmark, at den er sjælden, faktisk kendes den kun få steder i Europa, blandt andet i Italien, Ungarn og Spanien.
Man ved, at den lever i dødt ved, men det tyder ikke på, at den er specielt krævende i forhold til hvilken type træ.
Svampens giftighed er endnu uvis, men da det kun er meget få arter i rødbladslægten som er giftige, regner svampeeksperterne indtil videre ikke med at den er giftig.
Klimaændringer kontra urørt skov.
Ifølge Jacob Heilmann-Clausen tyder det på, at svampen er kommet til landet for nylig. Han undersøgte nemlig en masse bøgeskove fra 1997-2004 for vedboende svampe og her fandt man den ikke. Han tror at svampen sandsynligvis er kommet hertil med vinden. Det er nemlig en paddehat med vindspredte sporer som godt kan være blæst hertil sydfra.
Når man så ser den hele to steder, tyder det på, at forholdene for at leve på vore breddegrader er ved at ændre sig. Om det så skyldes klimaforandringer, der får mange arter til at rykke nord på i Europa, tør Jacob Heilmann-Clausen ikke sige. En anden forklaring kan være, at svampen engang for mange år siden har været i Danmark og nu er genindvandret fordi nogle få mindre områder i skovene er blevet vildere. En kombination af de to ting kan også være en mulighed.
Urørt skov med ældre, naturligt hjemmehørende løvtræ regnes som en af de sikreste genveje til at sikre en højere biologisk mangfoldighed.
MR/
Kilde: Københavns Universitet