Edderkoppernes silke består af proteiner og er flydende inde i edderkoppen, men stivner når den kommer ud af spindevorterne på edderkoppens bagkrop. Silken er meget stærk og samtidig elastisk.

Silken har mange formål
Edderkoppernes helt særlige evne til at lave silke udnytter spindlerne til mange formål. Mest kendt er edderkoppernes fangstnet, der har mange udformninger.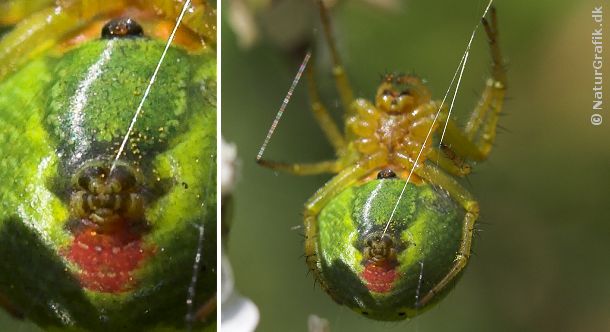 Det bruges silken også til:
Sikkerhedsline
Når edderkoppen bevæger sig klæber den gerne en silketråd til underlaget. Tråden bruges som sikkerhedsline, der altid griber den, hvis den i flugt har behov for at kaste sig ud i luften eller hvis blot den falder af underlaget.
Opbevaring af føde
Særligt hjulspinderne ses ofte indpakke det bytte, der er fanget. Byttet pakkes ind i silketråde og får derefter lov at hænge som en bylt indtil edderkoppen får lyst til at æde sin fangst.
Spinde ægkokon
Mange edderkopper spinder en kokon af silke, hvor edderkoppen opbevarer sine æg. Rov- og jagtedderkopper ses ofte bære rundt med disse hvid-gullige bolde.
Flyvetråde
Når de små edderkopper skal finde nye jagtmarker kravler de op i vegetationen og spinder en lang tråd ud i luften. På et tidspunkt er tråden lang nok til at gribes af vinden og edderkoppen trækkes med. På denne måde kan edderkopperne flyve langt til nye egne. Fænomenet kaldes for "flyvende sommer".
Kilder: M.J. Roberts, Spiders of Britain and Northern Europe, 1996. Danske edderkopper; Anders Brandt & Casper Tybjerg 2002.