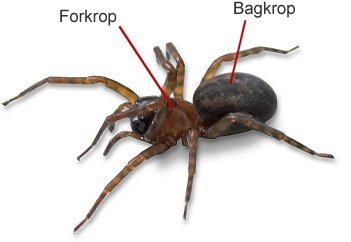 Anatomi:
Edderkoppens krop er sammensat af to dele; forkrop og bagkrop. Forkroppen (cephalothorax) er beskyttet af et relativt hård skjold – et såkaldt ydre skelet. Bagkroppen (opisthosoma) er blød og i stand til at udvide sig når edderkoppen spiser eller udvikler æg. Når edderkoppen vokser er den af og til nød til at bryde ud af sit gamle ydre skelet, der efterlades som en tom skal.
Hjertet bagerst
I modsætning til hvad man måske skulle tro, så befinder edderkoppens hjerte sig ikke i forkroppen, men i bagkroppen. Bagkroppen indeholder også edderkoppens tarmsystem og silkekirtler, der producerer edderkoppens spind.
8 ben og 8 øjne
Edderkopper har 8 ben, hvor insekterne kun har seks. Edderkoppens øjne adskiller sig også fra insekternes. Hvor insekter har sammensatte facetøjne (bestående af mange enheder) har edderkopper enkeltøjne (i den forstand ligesom mennesker), men til gengæld hele 6-8 stk.
Visse arter har særligt veludviklede øje og bruger synet til at jage med. Det gælder bl.a. de to almindelige arter; zebraedderkoppen og Stor springedderkop. Disse kan antageligt også skelne farver.

En lille mund
Edderkopper har en lille mund og maden skal derfor findeles godt for at edderkoppen kan spise. Af samme grund sprøjter mange edderkopper en væske ind i byttet, der simpelthen opløser byttet indvendigt. Herefter kan edderkoppen suge indholdet ud som en flydende masse.

Han eller hun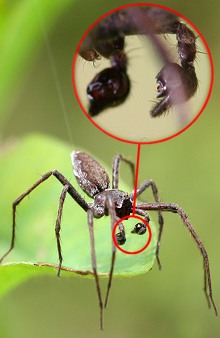 Kønnene adskiller sig ofte visuelt hos edderkopperne. Som regel er hunnerne større med tydeligt større bagkrop end hannerne. Ofte kan man ved et hurtigt blik se på edderkoppens palper, der sidder forrest fremme som små ben, om det er en han eller hun. Hos hannerne er palperne store og ligner gerne et par boksehansker. Hannerne bruger palperne til at befrugte hunnerne, idet han simpelthen fylder sæd i sin "boksehandske" og fører den til hunnens kønsåbning, der sidder midt på undersiden af bagkroppen.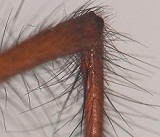 Føle, dufte, smage
Edderkopper har forskellige hår på ben og krop. Hårene kan opfange luftbevægelser i omgivelserne, f.eks. fra bytte eller fjende. Nogle hule hår kan opfange "smag" og "lugte"
Kilde: M.J. Roberts, Spiders of Britain and Northern Europe, 1996