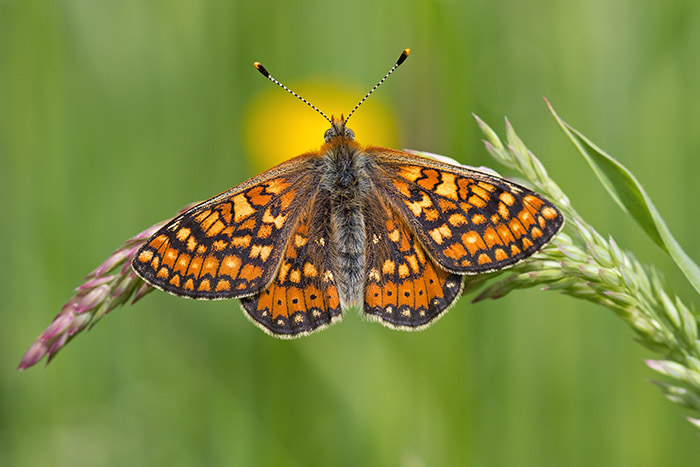 Danmarks Naturfredningsforening (DN) og firmaet A. Vogel, efterlyser Danmarks bedste sommerfugleprojekter til gavn for en sårbar eller truet sommerfugleart.
Konkurrence skal præmiere de kommuner, der ønsker at arbejde for at stoppe tabet af biodiversitet.
Danmarks Naturfredsforening efterlyser, i samarbejde med virksomheden A. Vogel (Bioforce), nu de bedste sommerfugleprojekter ude blandt landets kommuner.
De to bedste projekter kan hver se frem til 100.000 kroner, som skal gøre konkret nytte for én eller flere af de 32 dagsommerfuglearter, der lige nu er listet som truede herhjemme. Hver fjerde sommerfugleart i Danmark er nu truet i et vist omfang. I løbet af de sidste år har Danmark mistet ikke mindre end 12 forskellige arter, hvilket vidner om, at vores sommerfugle er under pres. Det skriver Danmarks Naturfredningsforening.
Ved at hjælpe sommerfuglene kan det have en positiv effekt for mange andre insektarter, som lever på eksempelvis heder, overdrev, moser og åbne skovarealer. Naturtyper som der også er blevet færre af i Danmark.
Tidligere projekter har blandt andet hjulpet Brun pletvinge i Ikast-Brande Kommune og Violetrandet ildfugl i Hillerød kommune.
Formålet med de to projekter.
Formålet med projekterne er selvfølgelig først og fremmest, at hjælpe nogle af de mange trængte sommerfuglearter vi har tilbage i Danmark. Derudover vil DN og A. Vogel gerne aktivt inddrage borgerne, de enkelte DN-afdelinger samt kommunerne i udpegningen af de aktuelle områder. Der er tale om to projekter, der hver får 100.000 kr. til at hjælpe en sårbar eller truet sommerfugleart. Der er dog nogle få, men enkle regler for at kunne være med i kapløbet om de mange penge. Blandt andet skal det være kommunen, der skal stå som ansøger på projektet som skal foregå på et konkret naturområde. Ansøgningsfristen er 30 marts 2018. Du kan læse mere om konkurrencebetingelserne på DN's hjemmeside her: Sommerfugleprojekt.
Alle indsendte projekter vil blive udstillet sammen med den tilknyttede sommerfugleart på Naturmødet 2018 i Hirtshals. Vinderprojekterne vil blive markedsført nationalt af A. Vogel og DN sammen med kommunens navn.
MR/
Kilde: dn.dk