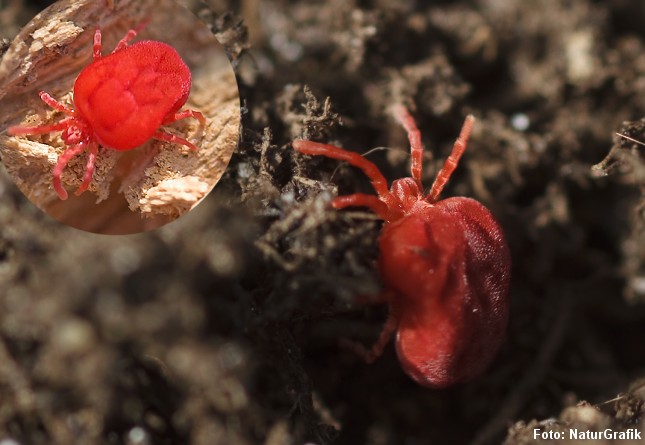 Ikke en edderkop – trods otte ben.
"Hvad hedder den lille, røde edderkop?". Det spørgsmål har jeg fået flere gange og svaret er den hedder rød jordmide (trombidium holosericeum) – eller rød fløjlsmide som den også kaldes. Det er nemlig ikke en edderkop som mange foranlediges til at tro! Nok har den otte ben som edderkopperne og den tilhører da også gruppen af spindlere, hvor både edderkopper, mejere og mosskorpioner også hører hjemme.
Den røde jordmide er dog ikke farlig for mennesker og husdyr som en anden mide; skovflåten kan være.
Især om foråret møder vi den røde mide i haven – særligt når køkkenhaven skal graves.
Nogle antager også jordmiden for at være et insekt, da det ved første øjekast godt kan se ud som om, at den kun har seks ben (klassisk insektkendetegn) og to antenner. Men mider har ikke antenner. De såkaldte antenner er forben som bare er meget fremadrettet. Dem bruger miden blandt andet til at føle sig frem med. Forkrop og bagkrop er heller ikke delt i to som er karakteristisk ved insekterne.
Et rovdyr.
Til trods for den lille størrelse på 3-5 mm, hvilket i øvrigt er stort for en mide, er den voksne mide et rovdyr. Den lever ikke kun af bladlus, springhaler og andre hvirvelløse dyr samt deres æg, men også af andre mider. Dog kun mider som er mindre end den selv.
Som larve er den en snylter, der med sine kraftige klosakse bider sig fast på edderkopper og insekter som eksempelvis græshopper. På den måde kommer den nemt omkring og føden får den ved at suge af værtsdyrets kropsvæsker. I modsætning til andre af dens artsfæller gør dog ikke nævneværdig skade på værtsdyret.
Den røde farve.
Mange har sikkert set den lille, postkasserøde mide. Den er nem at få øje på, grundet den kraftige, røde farve. Den røde farve indikerer over for fjender, at her er et giftigt dyr. Omfanget af hvor og hvordan giftstofferne virker vides ikke med sikkerhed.
Selve farven kommer fra karotenoider som er kraftige antioxidanter.
Almindelig i Danmark.
Den røde jordmide er en mide som gerne vil være i skovbunden og helst i løvskove samt på stammer med mos. Men man kan også sagtens finde den på det åbne land og mange har sikkert også set dem i deres haver. De kan findes normalt fra april til september, men ses oftest om foråret.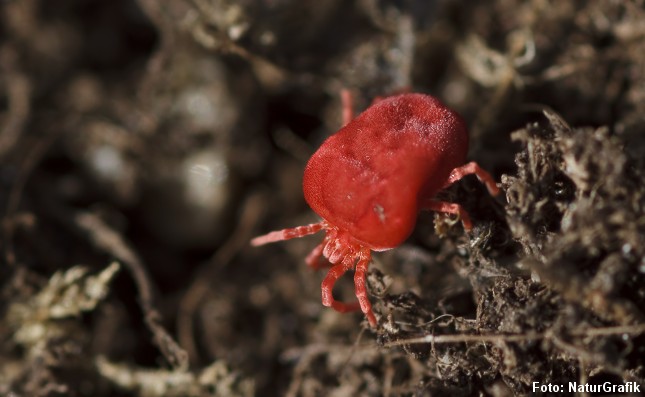 Fakta om rød jordmide/fløjlsmide:
Navnet fløjlsmide kommer af de mange små hår som miden er dækket af. Det får dem til at se helt fløjlsbløde ud.
Miden har "kælenavnet" postbuddet som henviser til dens flotte røde farve.
Den voksne mide lever hovedsageligt af bladlus, springhaler og andre mider.
Mider medvirker til at nedbryde organisk materiale, som døde planter og dyr, i naturen.
Der findes omkring 1000 forskellige arter af mider alene i Danmark. Også flere arter af fløjlsmider.
Skovflåten er også en mide. Læs mere her: skovflåten.
MR/
Kilder: Naturespot.org.uk, Naturporten, Havenyt.dk, Wikipedia.