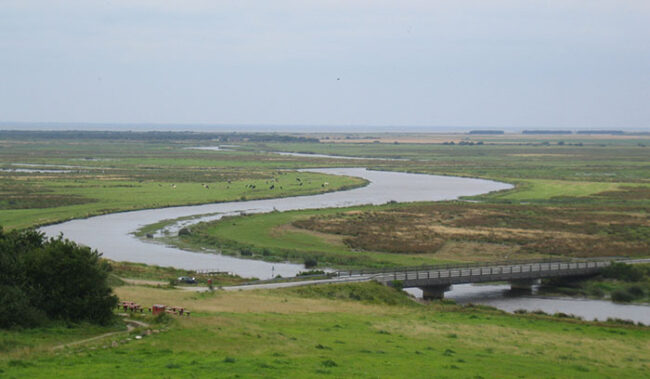 Landbrug & Fødevarer og Danmarks Naturfredningsforening er gået sammen i et usædvanligt parløb om en jordreform, der sætter klimaet og naturen i fokus.
Udspil: 100.000 hektar landbrugsjord skal omlægges til natur og græsning.
I det fælles udspil fra de to organisationer, lægges der op til, at 100.000 hektar landbrugsjord skal omlægges til natur eller græsning. Det svarer til knap det dobbelte af Falsters areal. Fra begge parter lyder det, at en jordreform samt mere fleksible miljøregler vil være en gevinst for både landbruget, klimaet, miljøet og naturen.
Martin Merrild, formand for Landbrug & Fødevarer udtaler; " Vi har en naturlig interesse i at få de dårlige jorder taget ud af landbrugsdrift. Det handler meget om at komme i gang. Det er en plan med store perspektiver i, men den kræver nogle penge". Han understreger, at pengene blandt andet skal bruges til at opkøbe jord, så interesserede landmænd kan få noget ordentlig landbrugsjord til erstatning for lavtliggende arealer, men jorden skal ikke foræres væk.
"Natur- og klimadebatten ender desværre alt for ofte i skyttegravskrig. I stedet for at diskutere mod hinanden har vi i stedet forsøgt at finde de fælles løsninger, som kan vinde bred politisk opbakning", siger Maria Reumert Gjerding, formand i Danmarks Naturfredningsforening til landbrugsavisen.dk.
"Vi har fuld forståelse for, at det også skal hænge sammen for den enkelte landmand og erhvervet som helhed. Og med det her fælles udspil formår vi faktisk at levere substantielle resultater for naturen og klimaet, imens der sikres fordele for den enkelte landmand".
Præcis hvor mange penge der skal til fortæller udspillet ikke, men Maria Reumert Gjerding, DN's præsident taler om "en grøn milliard" det første år. "Det håber vi, at politikkerne er villige til at skyde efter det her projekt, fordi man får så meget godt ud af det. Man får klimagevinster og genetablering af ådale, som kan bidrage til klimasikring, og landbruget kan dyrke den jord, det giver mest mening at dyrke. Det er bare en vanvittig god investering". Hun lægger vægt på investering, for nogle af pengene vil komme ind igen.
Mere fleksible miljøregler.
Ud over jordreformen er de to organisationer også enige om, at lave en mere fleksibel fortolkning af de regler, der skal hindre at følsom natur belastes af ammoniak. Iflg. Maria Reumert Gjerding vil ammoniakbelastningen af den følsomme natur falde, og landbruget får nogle andre virkemidler til at opfylde kravene.
Generelt er der en positiv stemning i Folketinget for en jordfordelingsreform, men foreløbig er der kun afsat 150 millioner til formålet.
MR/
Kilde: politikken.dk, landbrugsavisen.dk.