Grundbog i natur og udeliv
Den nye og stærkt reviderede udgave af Udepædagogik er nu kommet på boghylderne. Bogen er både et godt værktøj og en spændende inspirationskilde til udendørsaktiviteter – særligt i naturformidlingen til børn og unge. "En grundbog i natur og udeliv" som forfatteren Lars Bergholdt selv udtrykker det i bogens undertitel.
Læst af naturvejleder Niels D. Lisborg
Talrige forskningsresultater viser at udebørn har en god indlæring, der også kommer til udtryk i klassiske fag som dansk og matematik. Desværre er det generelle billede at børn og unge (og mange voksne) i dag er langt mindre ude i naturen end tidligere generationer. Et flertal af danske børn får aldrig helt basale oplevelser i naturen. Netop derfor er denne bog et vigtigt redskab for at genåbne det fantastiske rum som naturen er. Efter at have læst bogen kan jeg som naturvejleder kun anbefale at bogen bliver en del af læsestoffet på naturvejlederuddannelsen.
Bogen giver mange gode argumenter for vigtigheden og betydningen af natur og udeliv – udover måske de åbenlyse som bedre motorisk udvikling hos børn.
I den første del af bogen kommer forfatteren godt omkring det teoretiske grundlag set i formidlingsmæssig sammenhæng. Her stilles både spørgsmål og gives svar.
I den sidste del af bogen finder man et væld af inspiration til udeaktiviteter. Der er bl.a. et afsnit om spiselige bær og planter i naturen, men også ideer til bålmad, tips til båltænding m.m.
Miljø, økologi og bæredygtighed er oppe i tiden – og Lars Bergholdt har i den nye udgave fundet plads til et lille kapitel om dette store emne. Her kunne jeg måske godt savne nogle praktiske eksempler, men kapitlet slutter af med nogle gode pointer: "Hvis vores børn og unge skal have grundlag for at udvikle en mere miljøvenlig indsigt og adfærd, så må "nogen" vise dem, hvordan man løser miljødilemmaer i hverdagen. Ikke ved bedrevidende at missionere."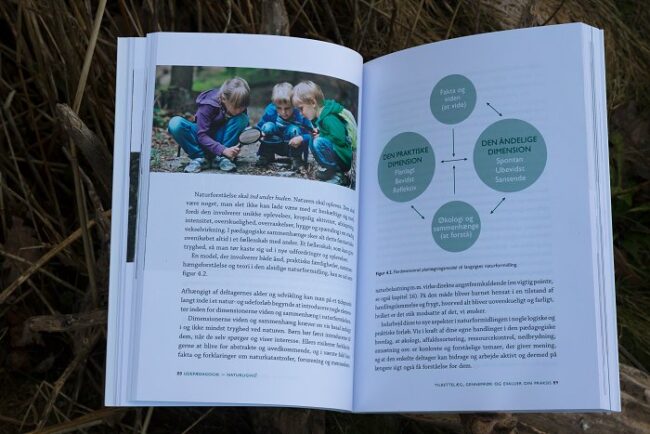 Annonce:
KØB bogen "UDEPÆDAGOGIK" hos SAXO og spar penge
Jeg tænker at bogen ikke kun har oplagt værdi for naturformidlere, lærere og pædagoger, men faktisk også for forældre, der gerne ville have inspiration til at gøre ting i naturen med deres børn. Bogen er skrevet i et forståeligt sprog og giver en god helhedsforståelse til begrebet udepædagogik, men først og fremmest en masse inspiration man kan dykke ned i hvor man lyster – uden nødvendigvis at læse bogen fra start til slut.
Udepædagogik – naturligvis. En grundbog i natur og udeliv af Lars Bergholt. 2. udgave. Frydenlund 2019. 302 sider. Vejl. pris kr. 299.