Vidunderlige dyrefortællinger for alle og enhver.

Læst af naturskribent Søren Olsen.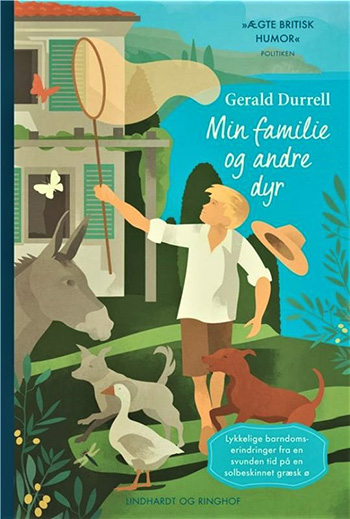 Gennem flere årtier var den engelske zoolog og naturbeskytter Gerald Durrell (1925-95) en stor naturformidler, både i bøger og fjernsynsprogrammer. Hans barndomserindringer fra 1930'ernes solbeskinnede græske ø Korfu er eventyrligt beskrevet i bogen "Min familie og andre dyr" og to efterfølgende bind. Han fortæller levende og utrolig underholdende om, hvordan han indsamler alverdens dyr til både gru og glæde for resten af familien. Alle tre bind i den såkaldte Korfu-trilogi er netop genudgivet og er også for nylig kommet som en TV-serie.
Gerald Durrell blev født i Indien, der dengang var britisk koloni, som den yngste af fire søskende. Da faderen døde i 1928 måtte familien vende hjem til England, hvor de bosatte sig i Bournemouth. De kunne dog ikke holde det engelske klima ud og flyttede derfor til Korfu i 1935. Dér blev de i fem lykkelige år, indtil Anden Verdenskrig tvang dem tilbage til England. Som voksen bosatte Gerald Durrell sig på kanaløen Jersey, hvor han grundlagde Durrell Wildlife Conservation Trust og Jersey Zoo, der fortsat arbejder på at beskytte sjældne og truede dyrearter.
Annonce:
Spar penge – Køb bogen "Min familie og andre dyr" hos SAXO
Men selv om han fik oplevelser fra det meste af verden gennem sit liv, så slap han aldrig sine barndomsoplevelser på Korfu: "Nogle vil måske finde det mærkeligt, at jeg kan blive ved med at skrive om denne periode i mit liv. I den forbindelse vil jeg gerne understrege, at vi dengang – og naturligvis navnlig efter græsk målestok – sad forholdsvis godt i det. Ingen af os arbejdede i ordets nu accepterede forstand, og derfor brugte vi det meste af tiden til at have det morsomt og rart. Og når man får lov til at leve på denne måde i fem år, er der næsten ingen grænser for, hvor meget man kan nå at opleve."
Gerald Durrell: Min familie og andre dyr, 424 sider, 250 kr., Lindhardt og Ringhof.