Anmeldt 17. marts 2013.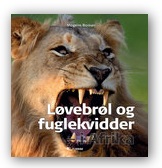 "Løvebrøl og fuglekvidder i Afrika" læst og vurderet af Marianne Riis, VisitNature.
'Løvebrøl og fuglekvidder i Afrika' er et nyt værk af Mogens Boman, der på fin vis åbner op for Afrikas overflødighedshorn af spændende natur og storslåede dyrearter.
En faktapræget bog med fremragende fotos.
Det bærende i bogen er først og fremmest de fremragende fotos og den flotte, grafiske opsætning. Alene af den grund kan bogen bruges som billedbog for børn, der endnu ikke kan læse. Selve teksten er let forståelig, men meget faktapræget og selv om forfatteren selv anbefaler bogen som en højtlæsningsbog for børn, er den efter min mening ikke egnet til historiefortælling eller godnatlæsning. Bogen er tættere på fagbogsgenren med mange data om de beskrevne dyrearter, men der er ikke nogen "fortæller" i bogen og man oplever ikke dyrene gennem forfatterens oplevelser.
Både tekst og billeder er i mange tilfælde relaterbare for børn. Bl.a. nævnes Rikki-tikki-tavi fra Kiplings berømte "Junglebogen" og Timon fra Disneys "Løvernes Konge" under beskrivelsen af surikaten – og under beskrivelsen af strudsen gengives bl.a. et foto af strudseæg i en pande ved siden af almindelige hønseæg til sammenligning.
Kan bruges som opslagsværk.
Bogen er opdelt i to hovedkategorier – først med beskrivelse af pattedyrene, og dernæst fuglene. Bagerst i bogen er der to siders ordforklaring, hvor begreber som "koldblodede dyr" og "cellulose" beskrives. En styrke i bogen, er at de hardcore fakta som vægt, højde, længde, levetid m.m. er samlet i faktabokse på en selvstændig side under de enkelte arter. Derved kan bogen også bruges som et hurtigt opslagsværk, der eksempelvis kan afsløre et næsehorns vægt.
Også for voksne.
Bogen kan også fint bruges til voksne, da sproget generelt ikke er "børnet". Har man planer om en safaritur til Afrika er 'Løvebrøl og fuglekvidder i Afrika' en god indledning til det afrikanske kontinent.
Løvebrøl og fuglekvidder i Afrika
Mogens Boman, TURBINE forlag, Aarhus 2013
Hardcover, 190 sider. Vejledende pris 299,-