Smuk bog om 52 gåture rundt om Bornholm.

Læst af naturskribent Søren Olsen.
Naturmæssigt er Bornholm uden sidestykke i Danmark, og det gælder ikke mindst den godt 150 kilometer lange kystlinje øen rundt. Mange benytter da også et besøg på Bornholm til en kort eller lang vandretur ad den gamle redningssti langs kysten. Hver fredag gennem hele 2018, fra solopgang til solnedgang, har den engelskfødte kunstner og illustrator Ben Woodhams besøgt et udsnit af kysten og malet eller tegnet sine oplevelser det pågældende sted.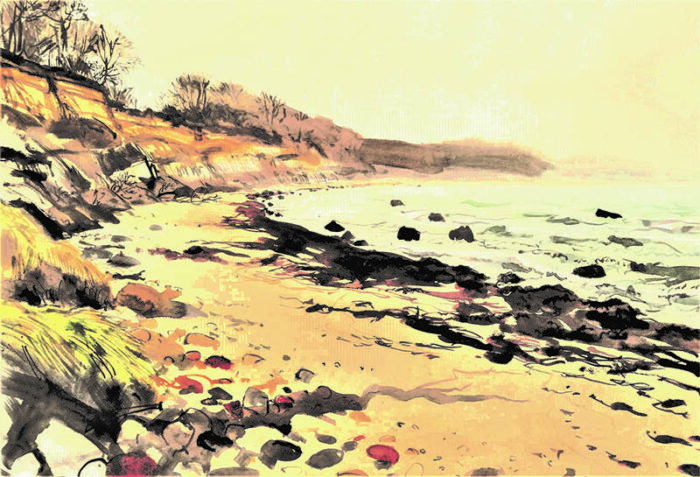 Hans værker er nu blevet til en smuk bog med titlen KYST, med over 500 dejlige illustrationer og korte kommentarer til alle billederne. Hver tur er beskrevet med flere illustrationer, men også en faktaboks med oplysninger om vejret, længden på vandreturen, fugle han så eller hørte og så antallet af personer han mødte og snakkede med den pågældende dag. Fredag den 12. januar ((ved Blykobbe Å) snakkede han for eksempel med blot to personer, mens han den 26. juli (ved Svaneke) snakkede med 25. Så ikke to dage var ens.
Det er en sand nydelse at blade i bogen KYST, og de detaljerede oplysninger giver ideer til vandreture man selv kan foretage som turist på Bornholm. Mange kyststrækninger er velkendte ruter og findes beskrevet i guidebøger, men denne bog åbner op for nye, spændende kyststrækninger, hvor man kan vandre og kan nyde årstidens rytme, med dens mange lyde, lys og dufte.
Ben Woodhams: KYST. 224 sider, 400 kr., NaturBornholm.