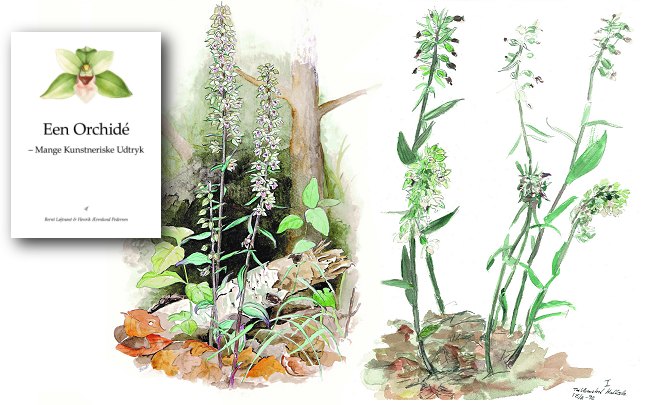 Flot, flot portrætbog af en dansk orkidé.

Læst af naturskribent Søren Olsen.
Tætblomstret hullæbe (Epipactis purpurata) er en dansk, vildtlevende orkidé med tætsiddende, hvidgrønne blomster. Den blomstrer fra august til september og bliver op til 60 cm høj.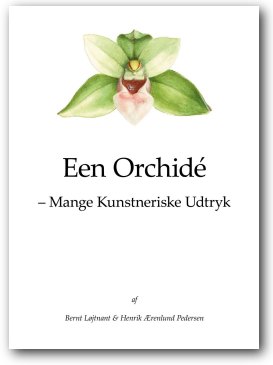 Den er en af vores smukkeste orkidéer, og man finder den i frodige bøgeskove på muldbund, og hvor der er plastisk ler i jorden. I de allermørkeste bøgeskove kan den vokse på en ellers helt vegetationsløs skovbund.
Tidligere blev tætblomstret hullæbe anset for at være meget sjælden i Danmark, og det var først i 1950'erne, at botanikerne så at sige opdagede den, selvom den formentlig har været en del af dansk flora i flere tusind år. Den er mest udbredt i Østjylland, fra Randers og ned til Kolding, men findes også enkelte steder på Fyn, Sjælland og Falster.
38 forskellige naturkunstnere illustrerer orkidéen.
Nu har to af Danmarks allerdygtigste orkidéeksperter, Bernt Løjtnant og Henrik Ærenlund Pedersen, udgivet en bog udelukkende om tætblomstret hullæbe. Det kan umiddelbart lyde lidt smalt, men det er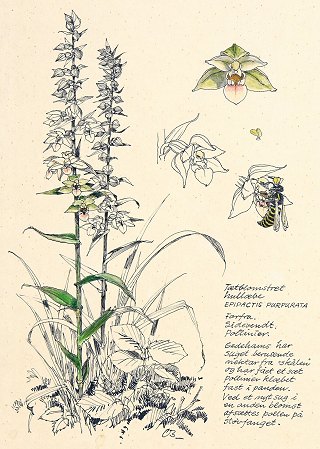 faktisk ikke tilfældet. For det er ikke en traditionelt fagbog, men en smuk, illustreret bog, idet 38 forskellige naturkunstnere er blevet bedt om at komme med deres udgave af den spændende orkidé.
Bogens bærende element er de mange illustrationer, der virkelig kommer til deres ret, takket være bogens store format. Jens Gregersen, Carl Christian Tofte, Claus Bering, Leif Madsen, Susanne Weitemeyer, Leif Ragn-Jensen og Kirsten Tind, Peter Nielsen og Niels Ryberg er blandt illustratorerne og de er mestre på deres felt.
De to orkidéeksperter bidrager med korte, faktuelle tekster, der endevender plantens naturhistorie på en forholdsvis letforståelig måde. For eksempel fortælles historien om, hvordan blomsten med sin nektar forgifter hvepse, så de får en drankeragtig tilbøjelighed til igen og igen at besøge og dermed bestøve planten. Fantastiske fortællinger i en smuk bog. Ros til Trykkeriet Friheden i Thy, for både godt og flot arbejde.
Bernt Løjtnant & Henrik Ærenlund Pedersen: Een Orchidé – Mange Kunstneriske Udtryk. 110 sider, 250 kr., BFN's Forlag 2016.